Hi there, I'm Ankita.
I'm your in-house White Label Facebook Ads Expert.
You're likely here because you need to scale, and you need someone with experience who can take the reins. Look no further! You've found your new team member who will drive consistent revenue growth at a great ROI, enabling you to focus on everything else you need to accomplish.
We help agencies and their clients generate a massive ROI through our white-label Facebook Ads Services.
I will take care of the Facebook Ad campaigns of your clients so you can focus on scaling your agency.
I specialize in FB Ad campaigns ranging from $500 – $50k+ in monthly spend, and I cater to a work variety of sectors – Realtors, Mortgage, Solar, Med Spas, Dental, HVAC, Docs, Chiros, Home Services, and many others…
Your Success is my Success! Let us handle your fulfilment so you can focus on your clients.
Ready to accelerate your growth with White Label Facebook Ads Expert? Let's get started!
I look forward to hearing from you.
Use Our White Label FB Ads Services To Maximize
Your Client's Ad Spend
With Our white label services, we will create, publish and Optimize the Facebook ads of your clients and we make sure that they are properly optimized on your behalf.
What Some Of My Clients Are Saying About Our Facebook Ads Services...
My White Label Facebook Ads Results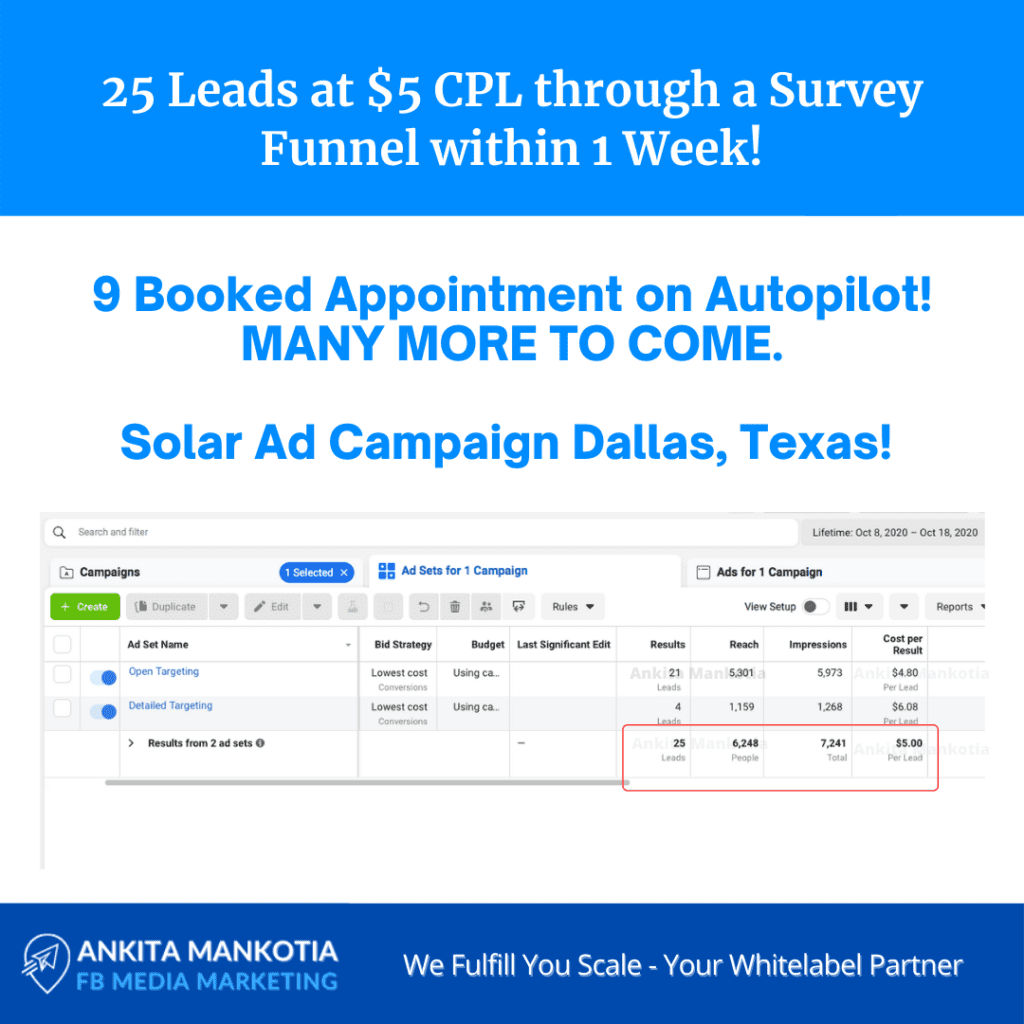 Solar Ad Campaign Results
25 Solar leads at $5 per lead within 1 Week!
9 Booked Appointments already
all on autopilot.. We are booking appointments directly from Thank you page
All leads are qualified through a survey funnel which includes 6 Questions ( Yes even credit score). This is the benefit of Working With Facebook Ads Expert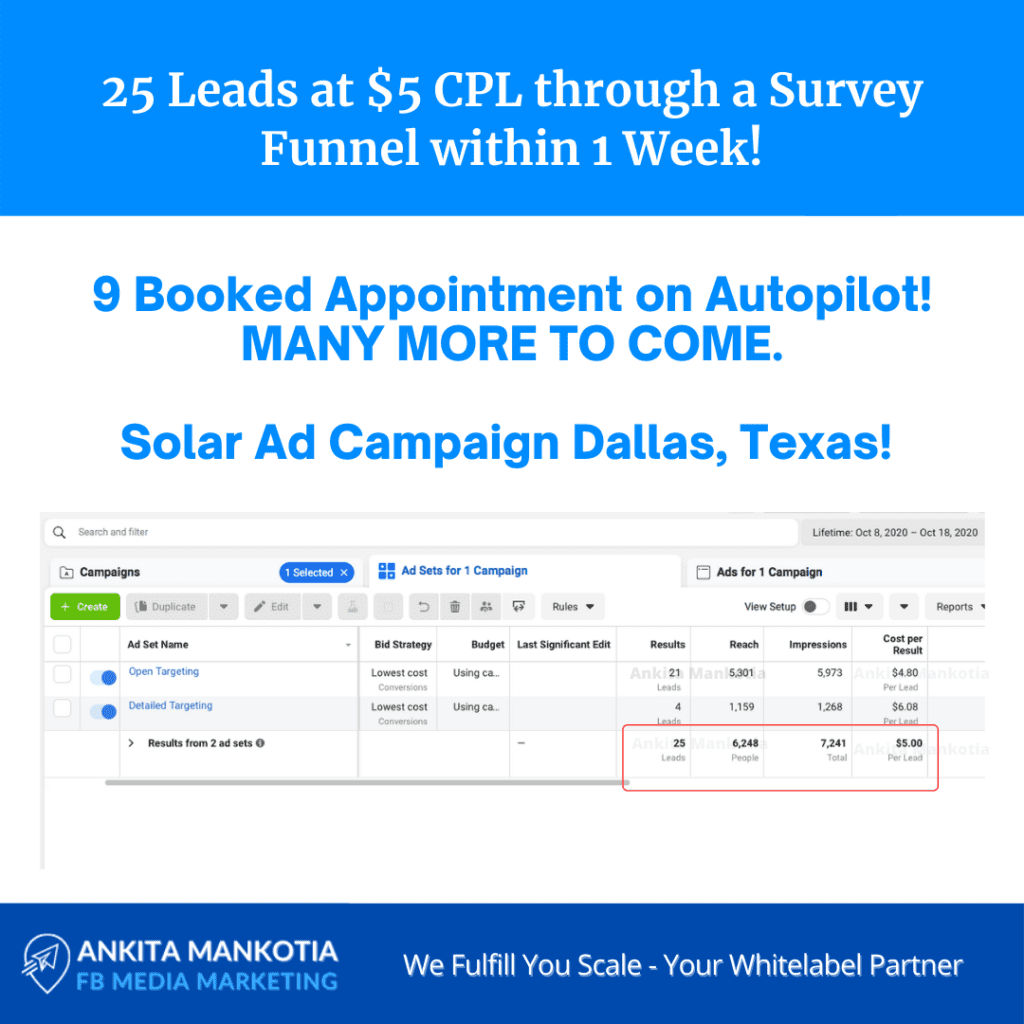 Real Estate Seller Ad Campaign Results
17 leads within 1 week at $7.63 a lead 🔥
When this Real estate agency reached out to me their CPL was at $250 a lead and they were on the verge of losing the client, but with our bulletproof strategy, we got the CPL down and they were able to retain him 🚀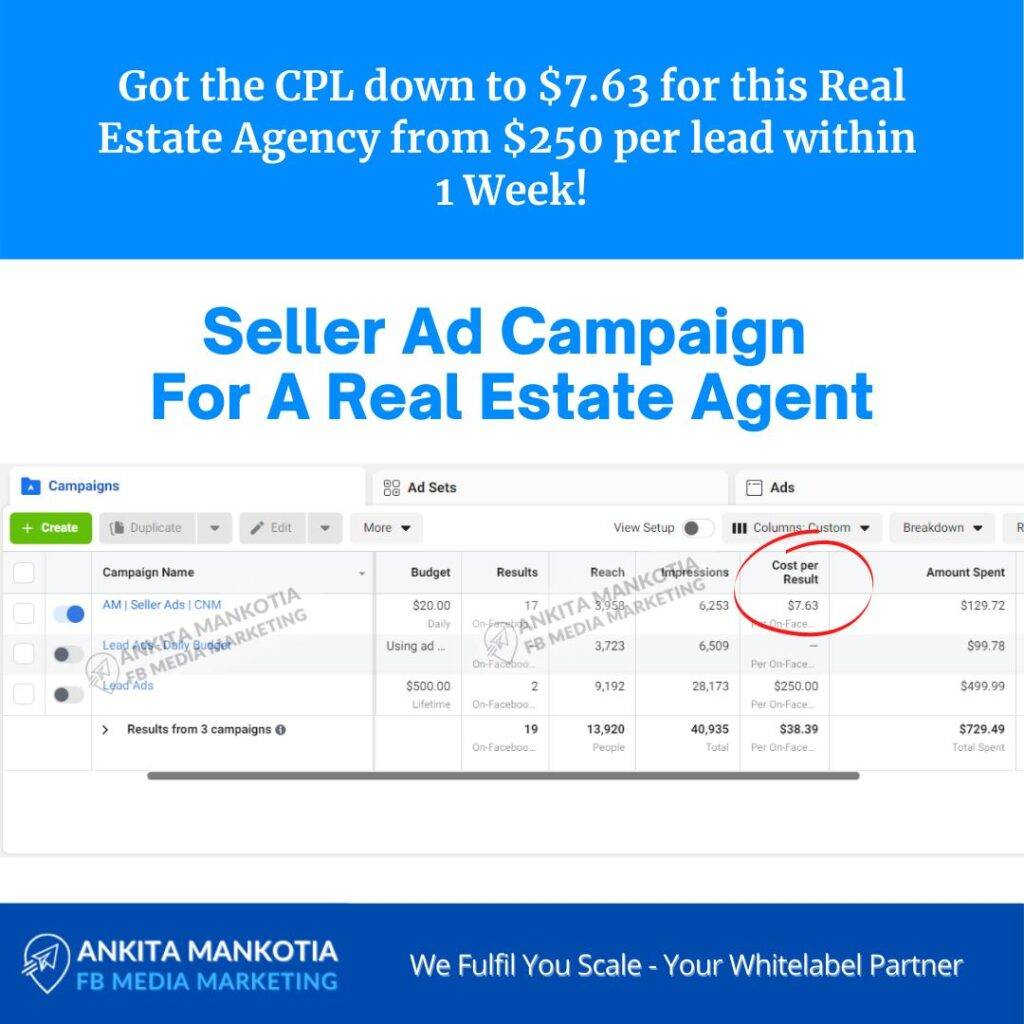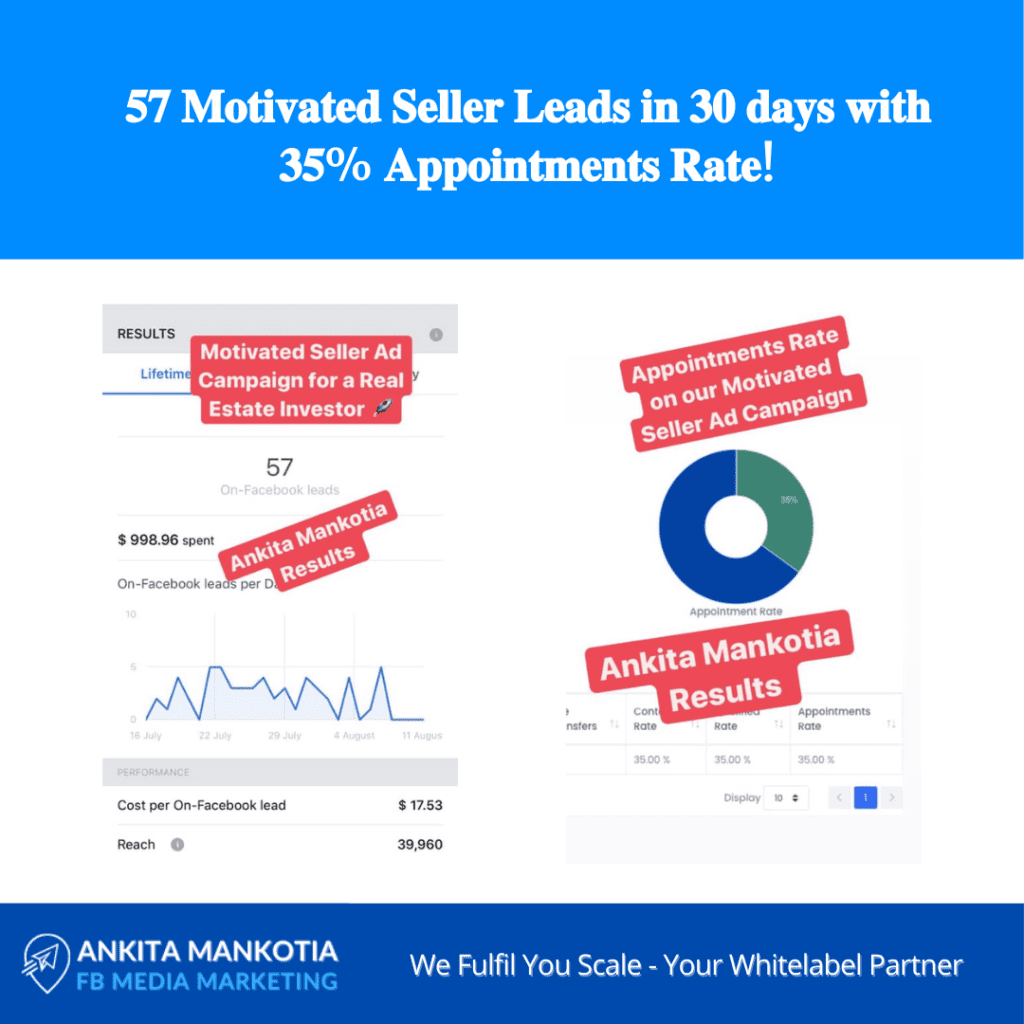 Real Estate Motivated Seller Ad Campaign Results for Real Estate Investor
I white labelled these ads for a REI agency and their client who is an investor has already started giving cash offers to homeowners. 🔥
3 Components of Real Estate investing success:
✅A steady flow of Motivated Seller Opportunities
✅Systems and Automated Follow up
✅ISA calling these leads within 5 mins
While running ads for investors we have to keep the intent of the ads very clear.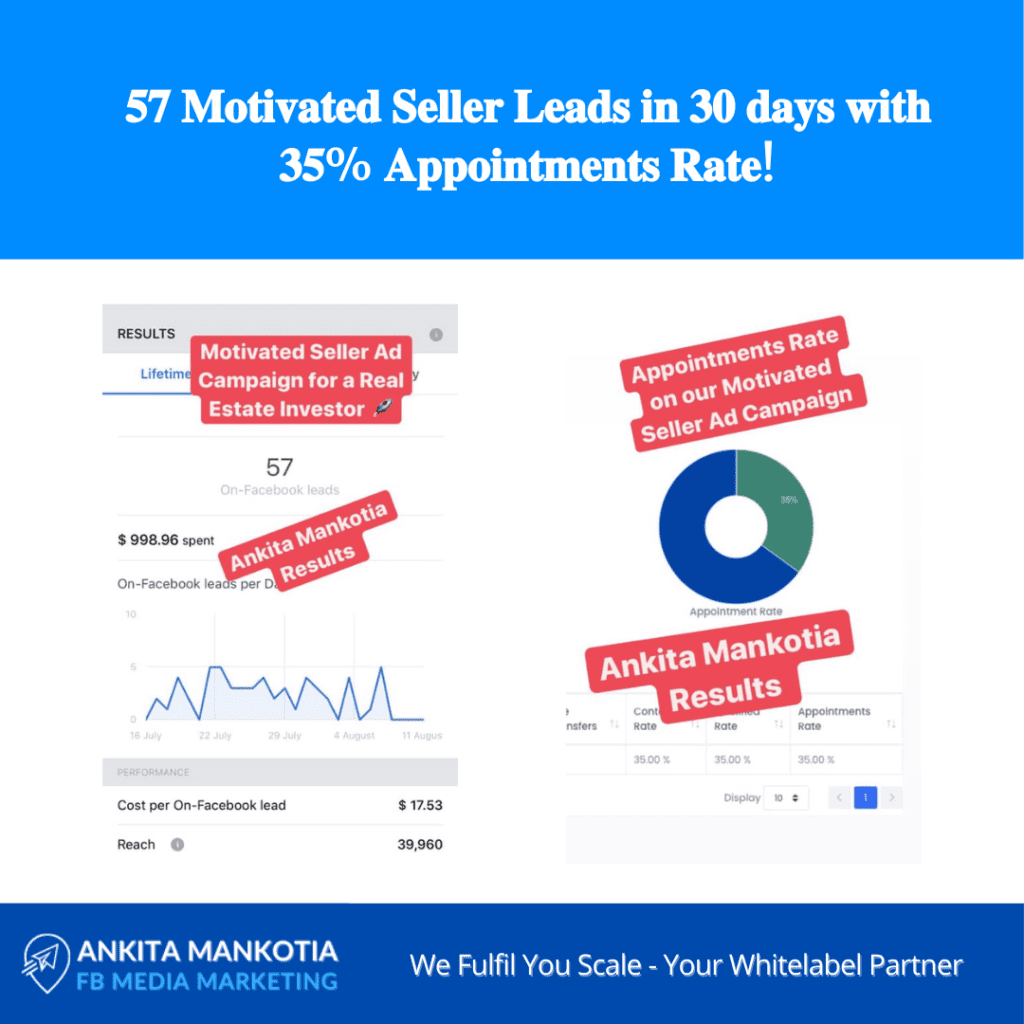 Real Estate Buyer Ad Campaign Results
𝟐 𝐏𝐫𝐨𝐩𝐞𝐫𝐭𝐢𝐞𝐬 𝐒𝐎𝐋𝐃 𝐟𝐫𝐨𝐦 𝐨𝐮𝐫 𝐅𝐚𝐜𝐞𝐛𝐨𝐨𝐤 𝐀𝐝𝐬 𝐟𝐨𝐫 𝐚 𝐑𝐞𝐚𝐥 E𝐬𝐭𝐚𝐭𝐞 𝐀𝐠𝐞𝐧𝐭!
It's all about ROI! Another happy white label client whose agent has closed two properties on his listings through our super targeted FB Ads campaigns
About 250 buyer leads were generated for a new construction ad over a period of 3 months and 2 were sold via our FB Ads fulfilment.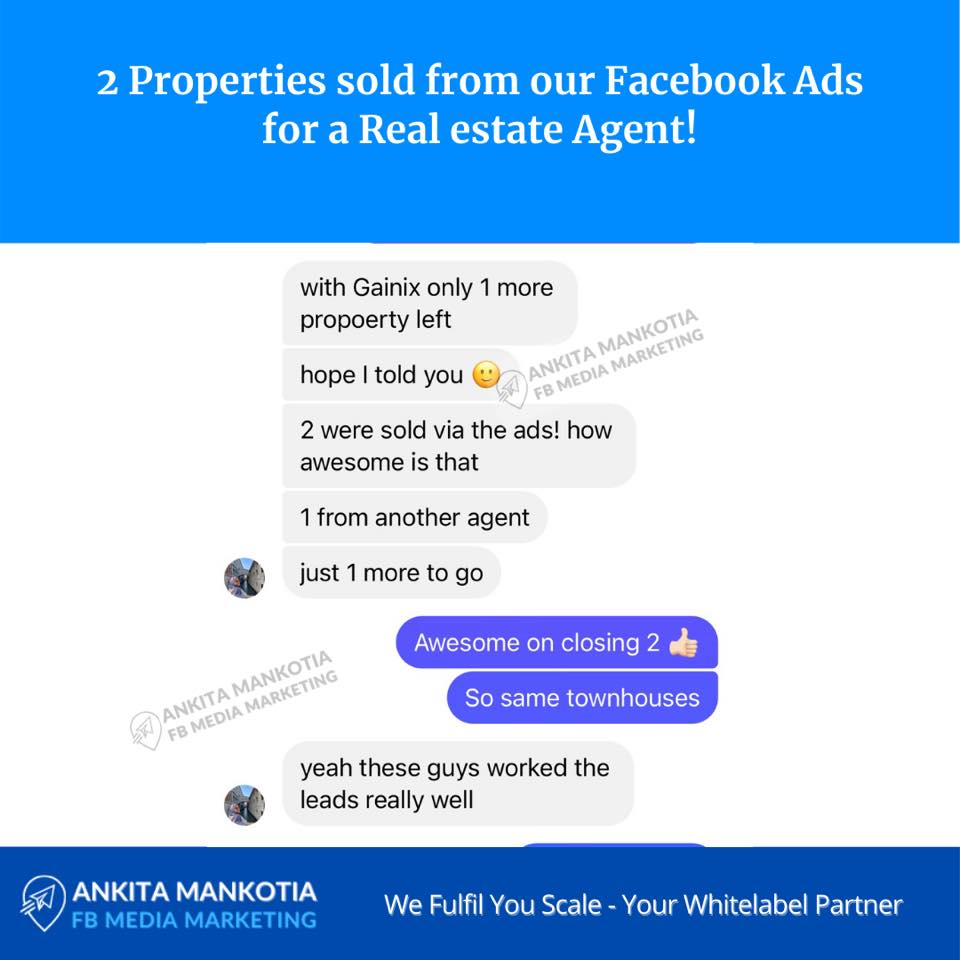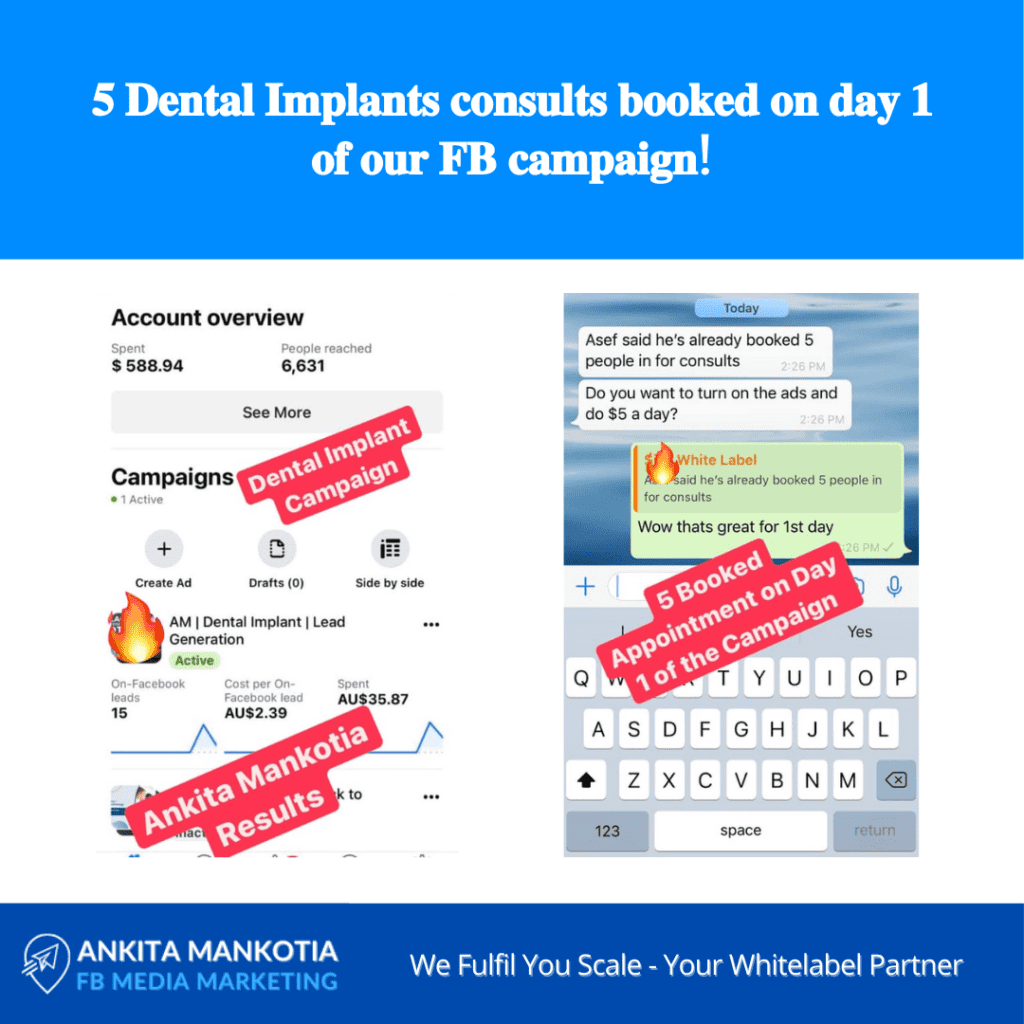 Dental Implant Ad Campaign
𝟓 𝐃𝐞𝐧𝐭𝐚𝐥 𝐈𝐦𝐩𝐥𝐚𝐧𝐭𝐬 𝐜𝐨𝐧𝐬𝐮𝐥𝐭𝐬 𝐛𝐨𝐨𝐤𝐞𝐝 𝐨𝐧 𝐝𝐚𝐲 𝟏 𝐨𝐟 𝐨𝐮𝐫 𝐅𝐁 𝐜𝐚𝐦𝐩𝐚𝐢𝐠𝐧!
15 leads generated on day 1
5 Booked Appointments
$2.39 per lead
Spent $35.87 only
Our experience of targeted FB ads in the Dental niche helps our white label clients generate almost instant results!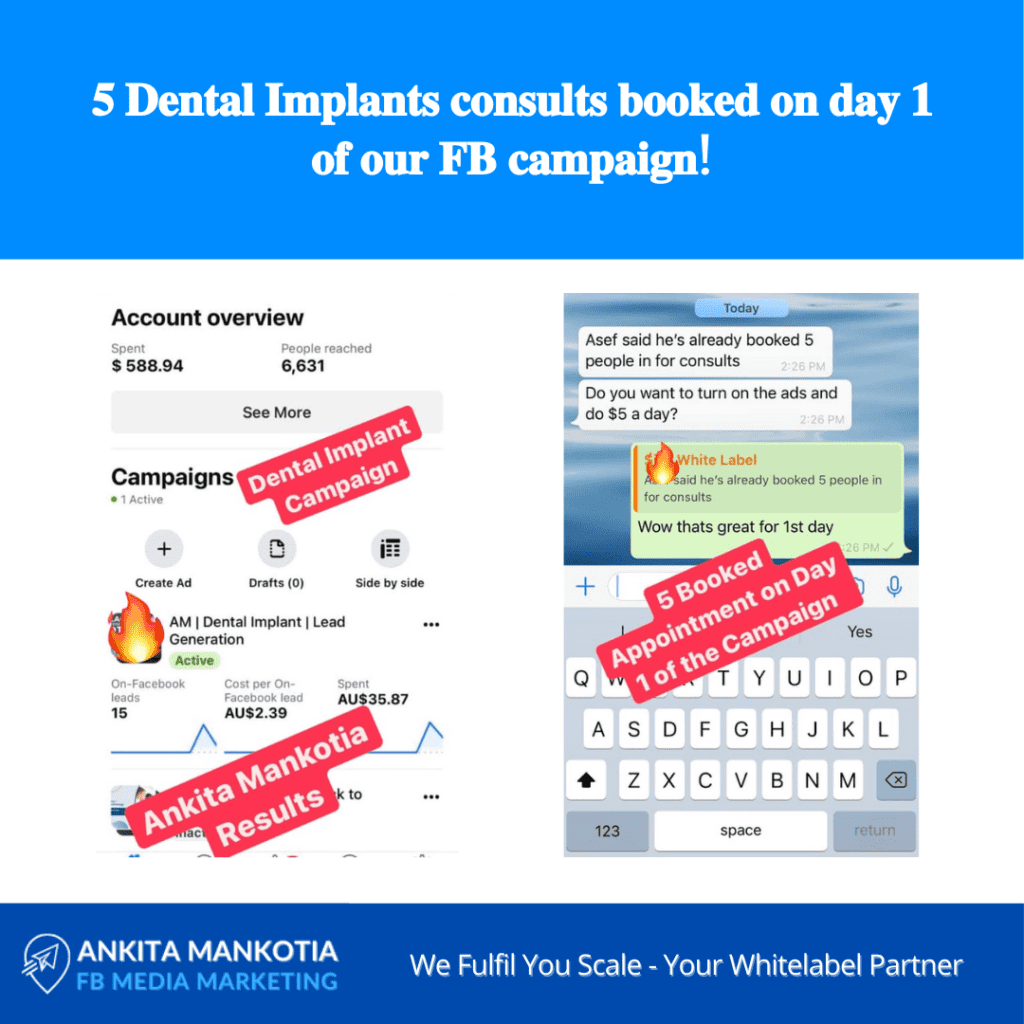 Mortgage Ad Campaign for a Mortgage Broker
𝟏𝟎𝟒 𝐋𝐎𝐍𝐆 𝐅𝐎𝐑𝐌 𝐌𝐎𝐑𝐓𝐆𝐀𝐆𝐄 𝐋𝐄𝐀𝐃𝐒 𝐅𝐎𝐑 $𝟑.𝟐𝟖 𝐐𝐔𝐀𝐋𝐈𝐅𝐈𝐄𝐃 𝐎𝐍 𝐀 𝟏𝟑 𝐐𝐔𝐄𝐒𝐓𝐈𝐎𝐍 𝐒𝐔𝐑𝐕𝐄𝐘 𝐅𝐔𝐍𝐍𝐄𝐋
Want guaranteed mortgage opportunities? I white-labeled an ad for an agency for a mortgage broker and within a period of 30 days we were able to generate 104 long-form survey leads at $3.28 qualified on 13 questions. 🔥
✅Qualified leads through a long dripping campaign which includes :
✔️SMS
✔️Emails
✔️Voicemail
✔️Forced calls
which motivates the leads to self-book an appointment.
Many of them are very hot leads🔥 :
✅Wanting to immediately or within 1-3 month
✅Have a decent budget to buy a house
✅Good Credit score
✅Strong Income Profile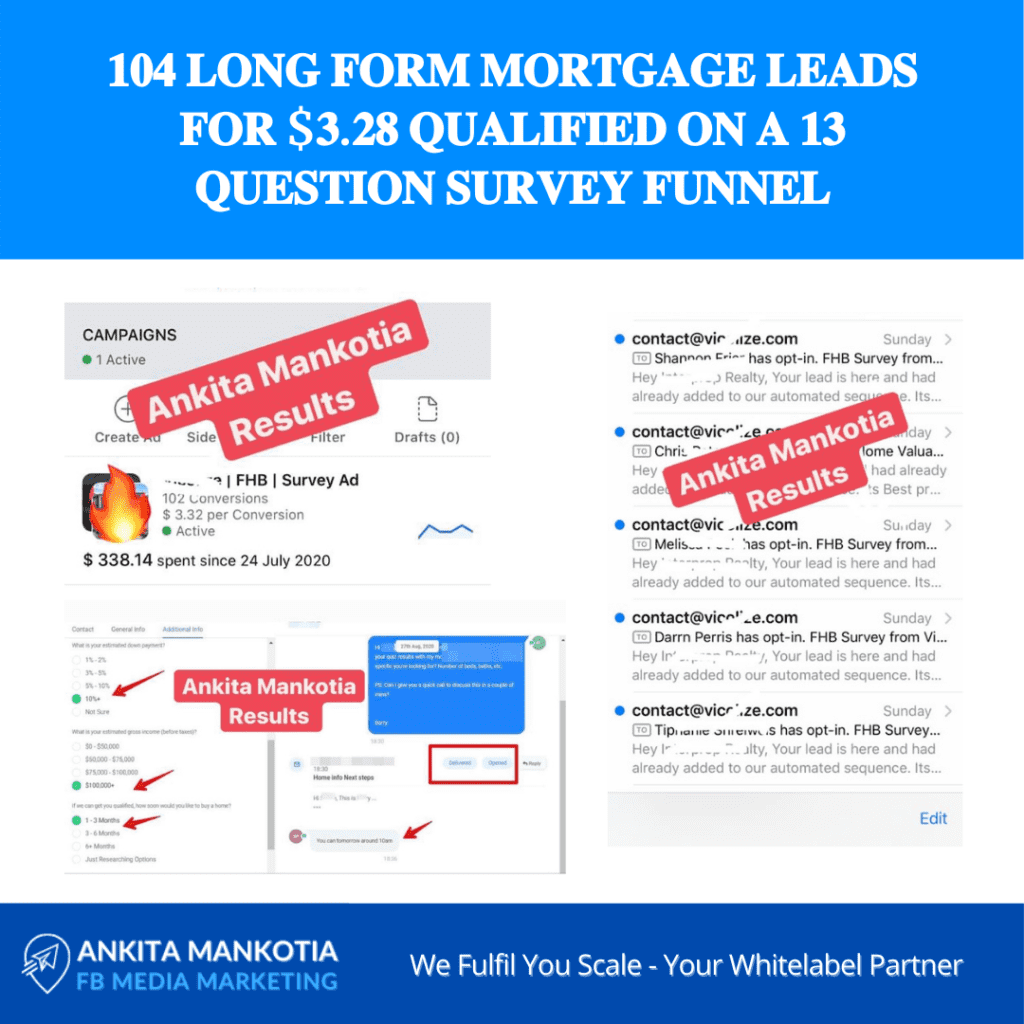 Frequently Asked Questions
Once you onboard a new client, we will send you the next steps where you need to fill a simple onboarding form where we ask questions like ad spend, emails for notifications, offers your client is looking to run. It takes 10 mins to complete the process. We launch the campaigns within 5 days once we have all the details.
We take 5 working days to set up everything after you complete payment & onboarding.
We believe in providing complete transparency in what we do and campaigns we run. We can run ads either through your account or your end client's account.
Yes we help with end-to-end Gohighlevel setup; we have proven snapshots for solar, meds spas, real estate etc which has brought our clients tons of closed deals. We use your Gohighlevel account for the setup so all assets are your and you have complete visibility. Note if you are a new agency you need to setup SMTP, domain & twillo before we start setting up campaigns.
Yes for all our clients who don't use Gohighlevel for follow up we create relevant zaps for instant email notifications and google sheets for mapping all the leads in real time.
We don't have an ISA service in-house but we have tie ups with all the major ISA providers and can help you integrate those for your clients.
Our preferred mode of payment is transferwise (https://transferwise.com/). But incase you want to you use paypal an additional paypal transaction fee of $20 would be applicable.