We are a leading digital marketing White Label FB ads agency that offers Facebook ads services. With our team of experienced Facebook ads experts, we can handle your clients' advertising campaigns in lead generation services.
Outsourcing your Facebook ads campaigns to us allows you to focus on other aspects of your business while ensuring that your clients' advertising needs are being met by skilled professionals. 
Our team of Meta experts is dedicated to delivering high-quality results and ensuring your clients' satisfaction.
Extend Your Agency Capabilities Without Any Risk
With Ankita Mankotia, you can extend your agency capabilities without taking any risks. As a white label FB ads agency, we provide a comprehensive range of services you can offer your clients without worrying about managing a team of experts. 
Our team of professionals will work closely with you to deliver high-quality results that meet your client's needs, all while maintaining your brand identity. By partnering with us, you can expand your services, increase your revenue, and grow your agency without any risk.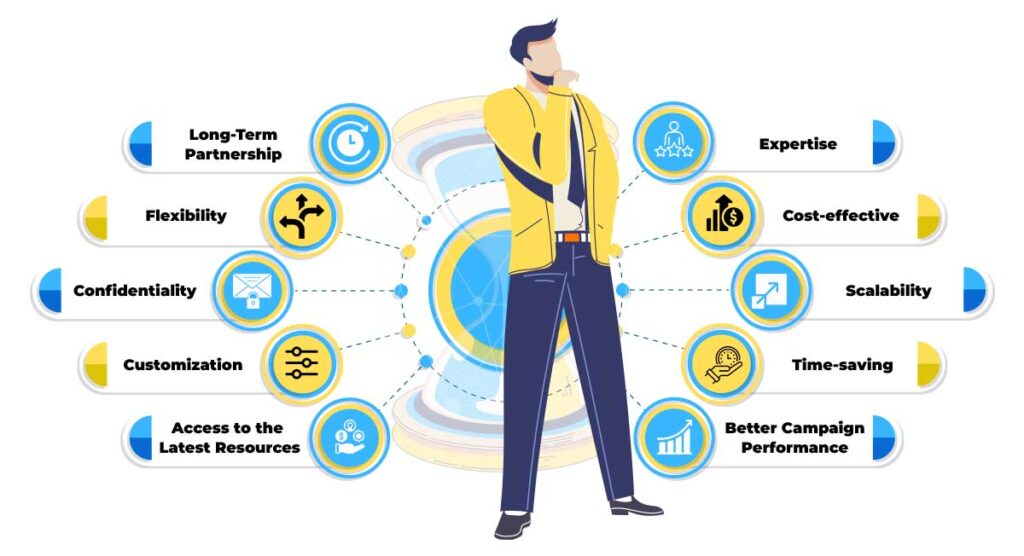 1. Expertise – We have a team of experts with years of experience in the digital marketing industry. Our professionals are well-versed in various niches, including eCommerce, lead generation, and affiliate marketing, and they have a proven track record of delivering outstanding results. By partnering with us, you can tap into our expertise and leverage our skills to deliver top-quality services to your clients.
2. Cost-effective – We offers cost-effective White Label Fb ads services that will help you increase your revenue while saving on overhead costs. By outsourcing your clients' campaigns to us, you can avoid the cost of hiring and training a team of experts. Additionally, you can save on software, tools, and other resources that are essential for running successful campaigns.
3. Scalability – As your agency grows, so will your clients' needs. We offers scalable services that will grow with your business. We have a team of professionals who can handle any size campaign, from small startups to large corporations. Our services are designed to be flexible and can adapt to your client's changing needs.
4. Time-saving – By outsourcing your clients' campaigns to Ankita Mankotia, you can save time that you can invest in other aspects of your business. Our team of professionals will take care of everything from campaign strategy to optimization and reporting, allowing you to focus on other critical areas of your agency.
5. Better Campaign Performance – Our primary goal is to deliver better campaign performance. Our team of professionals will work closely with you to develop a customized strategy that meets your client's needs. We use the latest tools and techniques to optimize campaigns, resulting in better ROI, increased conversions, and better overall performance. By partnering with us, you can be confident that your clients' campaigns are in good hands.
6. Access to the Latest Resources – We stay up-to-date with the latest digital marketing tools and resources to ensure that we provide the best possible service to our clients. By partnering with us, agencies can access these tools and resources, including advanced analytics and reporting tools, AI-powered ad optimization, and more. Our experts are always learning and evolving to ensure that we stay ahead of the curve and deliver outstanding results.
7. Customization – We understand that every agency and client has unique needs, which is why we offer complete customization of our services. We work with our partners to develop a tailored approach that aligns with their business goals and delivers the best possible results. Whether it's lead generation, eCommerce, or affiliate marketing, we have the expertise to deliver customized solutions that meet your client's needs.
8. Confidentiality – At ROI Minds, we take our client's confidentiality seriously. We ensure that all information shared with us is kept confidential and secure. Our partnership is built on trust, and we work to maintain this trust by keeping our client's data safe and secure.
9. Flexibility – Our flexible approach allows us to work with agencies and their clients in a way that suits their unique needs. We offer a range of services, from one-time campaigns to ongoing support. We can work alongside your team or take full responsibility for your client's digital marketing needs. Our partnership is designed to be flexible to ensure that we meet your agency's requirements.
10. Long-Term Partnership – At Ankita Mankotia, we believe in building long-term partnerships with our agency clients. We work together to achieve your agency's goals and ensure that your clients receive the best possible service. We invest in our relationships, ensuring that we understand your business and your clients' needs. Our long-term partnership approach ensures that we deliver consistent, high-quality results over the long term.
Our Expertise in White Label FB Ads in Different Industries
We are a digital marketing agency that specializes in creating and executing effective Facebook ad campaigns. Our team of experts has years of experience in creating Facebook ads that are tailored to meet the unique needs of businesses across a wide range of industries.
We take a data-driven approach to ensure that your Facebook ads are reaching the right audience and generating the best possible ROI.
Lead generation is a crucial part of any business's success, and Facebook ads can be a powerful tool to achieve that. At Ankita Mankotia, we specialize in creating Facebook ad campaigns that are optimized for lead generation.
We work with our clients to understand their target audience and create compelling ad content that drives high-quality leads to their business.
By using our expertise in data analysis and optimization, we ensure that our clients are getting the most out of their Facebook ads investment.
Our 7 Step Approach to Get Success in Every Facebook Ads Account
We have developed a 7-step approach to achieve success in every Facebook Ads account. Our approach includes analyzing the audience and competitors, setting up the campaigns, creating engaging ad creatives, optimizing for better performance, scaling the campaigns, and reporting on the results. By following this approach, we ensure that every Facebook Ads account achieves the desired objectives and goals.
1. Customer Research – Effective customer research is critical to any successful marketing campaign. We believe in a thorough approach to customer research that involves gathering as much information as possible about the target audience. We use various research methods, including surveys, interviews, and data analysis, to gain insight into the target audience's needs and preferences. By understanding our customers better, we can create campaigns that resonate with them and ultimately drive better results.
2. Strategy Creation – We understand that a successful Facebook Ads campaign starts with a well-defined strategy. Our team of experts works closely with our clients to define clear goals and objectives for their campaigns. Based on this information, we create a customized strategy that outlines the tactics we will use to achieve these goals. Our strategies are designed to be flexible, allowing us to adapt to changes in the market and optimize campaigns in real time.
3. Execution – Once a strategy has been created, our team of experts executes it with precision. We use the latest tools and techniques to create ads that are highly targeted and optimized for the target audience. Our team also monitors campaigns closely, making adjustments as needed to ensure that they are performing at peak efficiency. We believe that execution is just as important as strategy, and we work hard to ensure that every campaign we create is executed flawlessly.
4. Tracking – We understand the importance of monitoring our campaigns' progress to ensure that we are on track to meet our goals. We use a variety of tracking tools and techniques to monitor campaigns in real time, allowing us to make adjustments on the fly. Our team of experts also analyzes campaign data to identify trends and opportunities for optimization. By tracking our campaigns' progress closely, we can ensure that we are delivering the best possible results for our clients.
5. Optimization – We believe that optimization is critical for the success of any digital marketing campaign. We continuously track the performance of our campaigns and use this data to optimize our strategies. Our optimization process includes analyzing user behavior, testing different ad creatives, and making data-driven decisions to improve campaign performance. By focusing on optimization, we ensure that our clients get the most out of their advertising budget.
6. Scaling – Scaling a campaign is a crucial step toward achieving long-term success. At Ankita Mankotia, we approach scaling by focusing on our client's goals and objectives. We identify the best-performing campaigns and ad sets and then scale them accordingly. We also continuously monitor performance and adjust our scaling strategy to ensure our clients achieve their desired results.
7. Reporting & Analysis – We understand the importance of reporting and analysis in digital marketing. We provide our clients with detailed reports that analyze the performance of their campaigns. Our reports include metrics such as clicks, conversions, and engagement rates, allowing our clients to make data-driven decisions.
We also provide recommendations on optimizing campaigns for better performance and achieving their goals. We ensure our clients stay informed and control their digital marketing efforts by providing comprehensive reporting and analysis.
Why Choose Ankita Mankotia as your White Label FB Ads Agency?
We are a white-label FB Ads agency that provides unparalleled expertise in crafting and managing high-performing campaigns for businesses of all sizes.
With a team of certified Facebook Ads experts and data-driven strategies, We delivers measurable results that translate into revenue growth for clients.
In addition, We offers a seamless white-label experience, allowing agencies to brand their services while leveraging resources and expertise.
With transparent reporting and flexible pricing models, We are the ideal partner for agencies looking to expand their services and drive real business results for their clients.
We are an expert in Facebook advertising with years of experience in creating successful campaigns for various industries
As a white-label Facebook ads agency in India, We works behind the scenes, allowing you to provide high-quality Facebook ad services under your brand name
We offers competitive pricing, allowing you to provide Facebook advertising services to your clients at a cost-effective price point
We offer customized Facebook ad campaigns that are tailored to your client's unique business needs and goals
We provides complete transparency on the progress of the campaigns they create, including regular reports and analytics.
We understand the importance of deadlines and work hard to ensure that campaigns are delivered on time every time
Use Our White Label FB Ads Services To Maximize Your Client's Ad Spend
With Our white label services, we will create, publish and Optimize the Facebook ads of your clients and we make sure that they are properly optimized on your behalf.
We help agencies and their clients generate a massive ROI through our white-label Facebook Ads Services.
We will take care of the Facebook Ad campaigns of your clients so you can focus on scaling your agency.
We specialize in FB Ad campaigns ranging from $500 – $50k+ in monthly spend, and I cater to a work variety of sectors – Realtors, Mortgage, Solar, Med Spas, Dental, HVAC, Docs, Chiros, Home Services, and many others…
Your Success is my Success! Let us handle your fulfilment so you can focus on your clients.
Ready to accelerate your growth with White Label Facebook Ads Expert? Let's get started!