You probably already have a Facebook business page, but are you running real estate FB ads?  Facebook ads are one of the most cost-effective ways to discover and acquire new leads on social media. One.
In this post, you'll find everything you need to know about which types of real estate Fb ads work best, along with a step-by-step guide on how to set up your first ad campaign and get your ads in the right places. I will pick up the audience.
Types of Real Estate FB Ads To Create
If you or another agent in your office has a new listing, this is great content for Facebook lead ads.
Include a few paragraphs in your ad that describe the main features of your listing to get people's attention. For example, number of rooms, features, proximity to parks and schools. Also, include 3-5 photos of your home.
Provide house prices, addresses, and other photos in exchange for prospective information. Link your Real estate FB ads to your website landing page or use Facebook lead forms to save everything on Facebook.
Home listings are the second best real estate FB ads. For example, a custom list of homes under $300,000 or a custom list of homes with pools.
We research the market to find out what people are searching for and create a list of the most popular ones. Again, you can link to your website landing page or use Facebook's lead form.
You can send your list to your prospects using automated emails. This is usually just a link to an Internet Data Exchange (IDX) website. Filter the IDX search results to show only what is in the list, copy this link and paste it into your website landing page. Ask your leads to provide their contact information before emailing your list.
Use relevant photos in these ads. So, if you're building a home under $300,000, make sure you're actually using photos of homes in that price range.
Types of Real Estate Facebook Ads to Avoid
While these types of real estate Facebook ads used to be popular back in the day, they have lost their relevance now that people can easily get free home evaluations from Zillow and other real estate sites. 
For this reason, these types of ads are not a good hook to draw in leads because they have no particular reason to choose you over a well-known service like Zillow. Zillow will give them immediate results, rather than them having to provide you with their information and waiting for an email from you.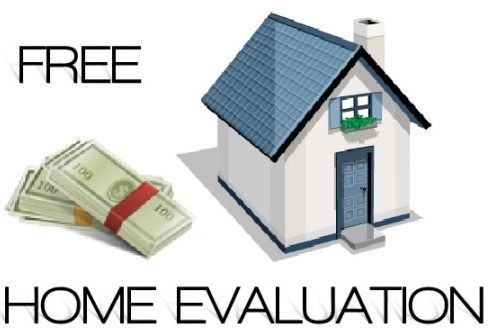 A real estate facebook ads where your personal branding is the main feature only works if you're already an established agent, or willing to spend a lot on advertising to establish your brand.
Suppose your ad is simply a photo of yourself, your logo, and a description of your experience. In that case, it will not convince anyone to click on it unless they've already had previous experience with your brand.
Most ads like this don't promise the lead anything in exchange for providing their information, which makes them ineffective. In addition, they are not ideal if you have a limited budget and are looking for more cost-effective options. However, personal branding is still important, and running ads can be an effective strategy down the road.
Boosting your posts is not a good strategy to get leads because it's primarily a way to get more engagement. This means you will mostly get likes, comments, and shares but won't get very many actual leads.
While Boosted Posts seems like a simple way to create an effective ad and get noticed, you won't get anyone's actual information. Boosting is more of a branding strategy and should only be considered when you've already established a solid lead generation ad campaign.
How to Set Up an Ad Campaign Step-by-Step
Now that you know what types of real estate facebook ads work best, we'll go through a step-by-step tutorial on how to set up your first ad campaign.
1. Create a New Facebook Ad Campaign
Log in to your Facebook Ads Manager and go to the Campaigns section. If you already have campaigns, you will see them listed here. Click on the green "+ Create" to get started creating your new campaign.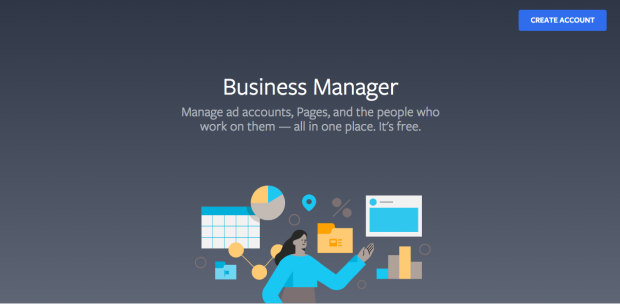 2. Select Special Ad Categories
In 2019, Facebook introduced Special Ad Categories as part of its new Facebook Advertising Policies. Special Ad Categories is a way to prevent discrimination, and it changes the way users can target specific audiences. 
Real estate Facebook ads related to housing fall under this category. All you need to do is select "Housing" from the drop-down menu underneath Special Ad Categories.
3. Choose Campaign Objective
Select "Create New Campaign." The buying type is automatically set to "Auction" by default, and there is no need for you to change this setting.
Then under Choose a Campaign Objective, select "Lead Generation." Before you hit Continue, make sure you name your Facebook campaign.
Click the arrow on the right to open the drop-down menu to name your Facebook advertising campaign. Name it something simple, such as "Your City Lead Generation." There's no need to adjust the other settings. Click "Continue" to move on to the next page.
On the next page, select your Facebook Business Page and then scroll down to the Audience section. Select "Create New Audience" and then go down to the Locations subsection.
Input the city that you are targeting. Because of the Special Ad Category restriction, the smallest you can target is a 15-mile radius around your chosen real estate market.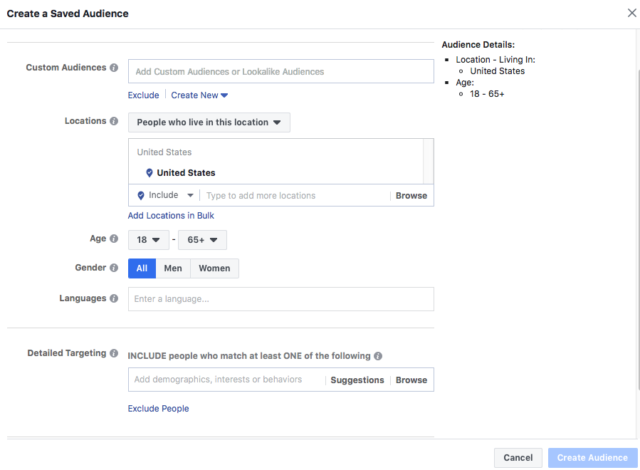 6. Set Detailed Ad Targeting
Another restriction put in place from the Special Ads Category is that you cannot adjust the age or gender of your target audience. However, you can change the Detailed Targeting, which lets you target a custom audience based on their interests.
It also allows you to conduct split testing so that you can find which audience is more receptive to you.
For example, you can search for one audience interested in Zillow, another interested in Realtor.com, and then compare them to see which group responds better to your ad.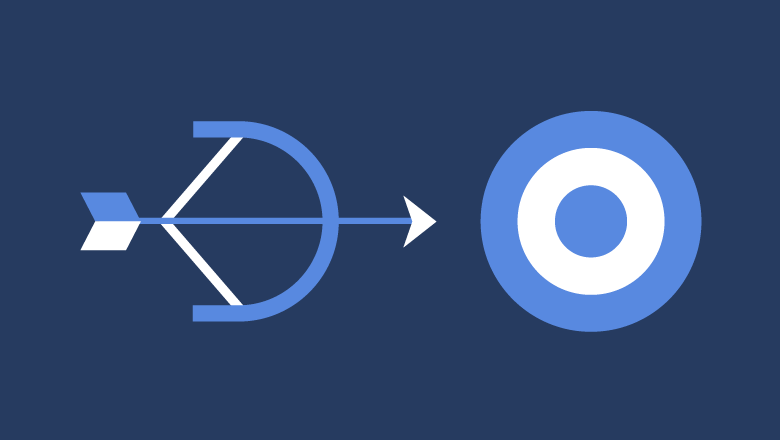 Next, choose your Placement. Manual placement is best. Otherwise, Facebook will select your ad placements for you and allocate your budget accordingly.
Facebook tends to spread your budget way too thin, because this is how the platform earns more money. When this happens, you are less likely to get any conversions. 
This is why Manual Placement is better, so you can pick the desired allocation of your budget. When you select Manual Placements, leave it set on All Devices and select Facebook and Instagram as platforms. 
Lastly, select where you want your ad to show up under Placements. Facebook News Feed, Instagram Feed, and Facebook Marketplace are the three best options for the highest conversions. If any other options are automatically selected, you should deselect them so that you can keep your split testing simple.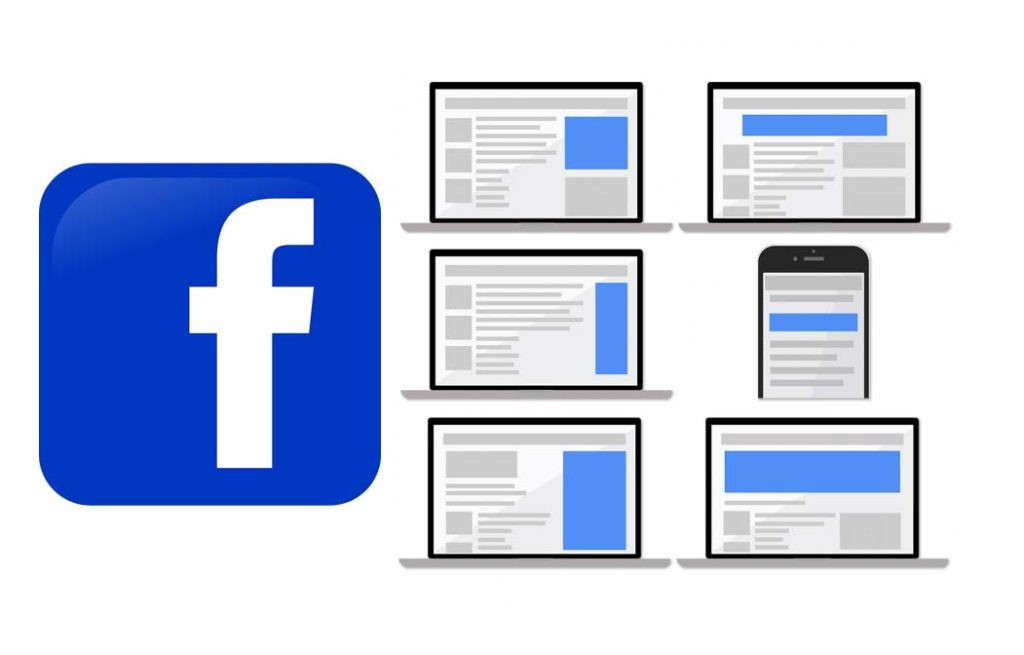 Under the Budget subheading, select Daily Budget from the drop-down menu and start with at least ten dollars per day. Facebook will warn you that you won't get any leads with this amount, but you can disregard this.
Facebook profits when you spend more money, so they will encourage you to increase your spending. However, ten dollars is plenty to get you new leads when you're just starting. With that being said, if you can afford to go up to fifteen or twenty dollars, that is even better.
Another method is to spend fifteen dollars a day on new leads, and five dollars a day on Facebook retargeting ads.
After your budget, the next step is to choose a schedule to control your ad spend. If this is your first campaign, be sure to select an end date so you can keep track of how long your campaign is running. If you don't, your campaign will keep running and you'll be spending money without knowing what's actually working.
A good idea is to select a week-long run date. This way, you can analyze your real estate Facebook ads to see if they are running successfully and which audiences are giving you better results.
If you have an ad that isn't working, you can replace it with a new one. Once you've selected your schedule, hit Continue to move on to the next page.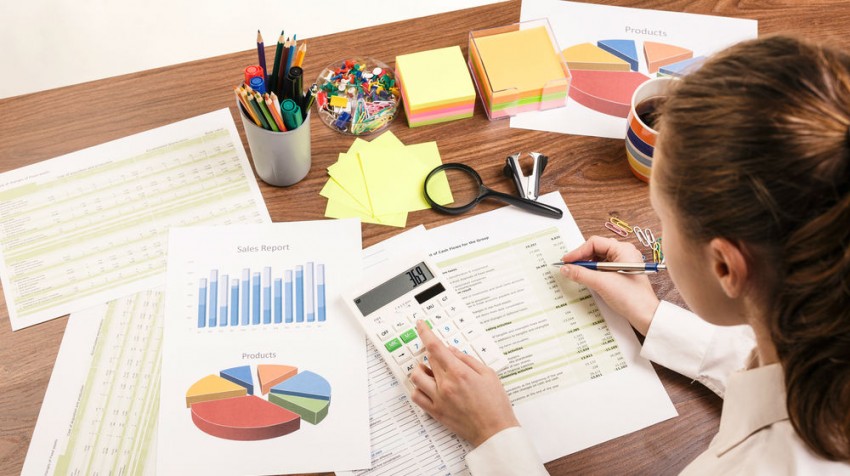 9. Choose the Image and Type of Ad
On the next page, you'll be asked to pick the ad format. There are several different ad types. You can choose from a single image, video ad, or carousel ad. Any option is fine, and you can experiment with multiple real estate FB ads to see what works best. 
You'll also have to upload your ad photo. The most important tip to keep in mind is choosing a high-quality image of the property. If you are using a stock photo, make sure it's of a property within the same price range as the one you are advertising.
After you've chosen an image, head to the Text & Links Heading and begin typing your ad's message in the Primary Text box. Keep it short, and use language and emojis to draw peoples' attention. 
Then, under the Headline box type a short headline summarizing your main message. You will see a preview of what your ad will look like on the right-hand side of the screen. 
Lastly, choose a Call to Action for your audience. The best one is Learn More, which encourages your audience to navigate to a landing page on your website where they can learn more about your brand.
11. Create a New Lead Form
Next, scroll down to the Instant Form section and click "+ New Form." In the box that appears, create a name for your form. A good idea is your city and the subject of your ad. For example, "San Antonio Under $300k." Under Form Type, choose the More Volume option and turn off the optional Intro button.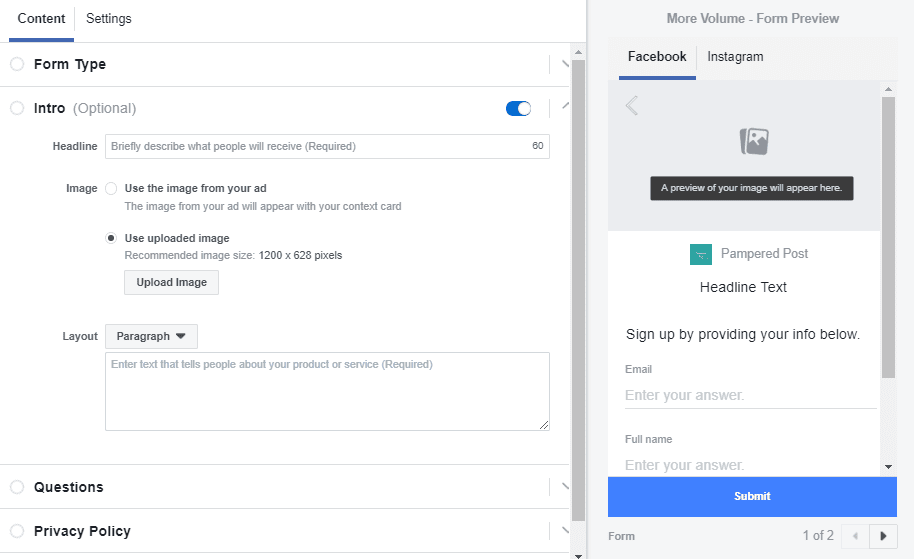 12. Choose Information to Capture
Next, you will choose what questions to ask your leads in the lead capture form. Keep it short and simple. Otherwise, they may not commit to taking the time to fill it out. Focus on just a few categories: name, email, and phone number. Also, make sure you add your privacy policy.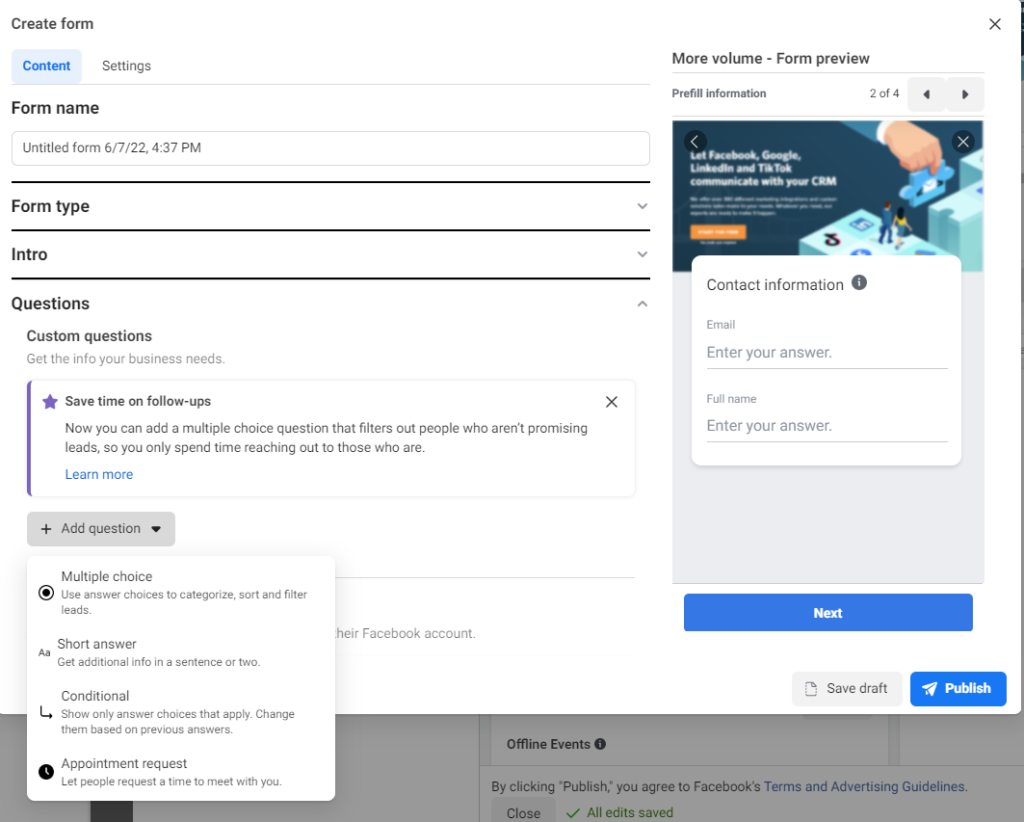 The next step under Completion is to select a message that will appear on the thank you screen after the lead completes the form. By default, the heading is set to "Thank you".
However, you should change this to match what you promised in exchange for filling out the form. In this case, we promised to list San Antonio homes under $300,000 for free, so change the caption to 'Click below for free home listings'.
The description can give the lead confirmation or guide them to the next step. For example, 'Your information has been sent to your name – eXp Realty' or 'You can now visit our website or complete the form.
Then customize the call to action button to say "visit website" and change the text to something related to what you promised your prospect. B. "View a list of the most popular homes". Add a link to the website you want your prospects to visit.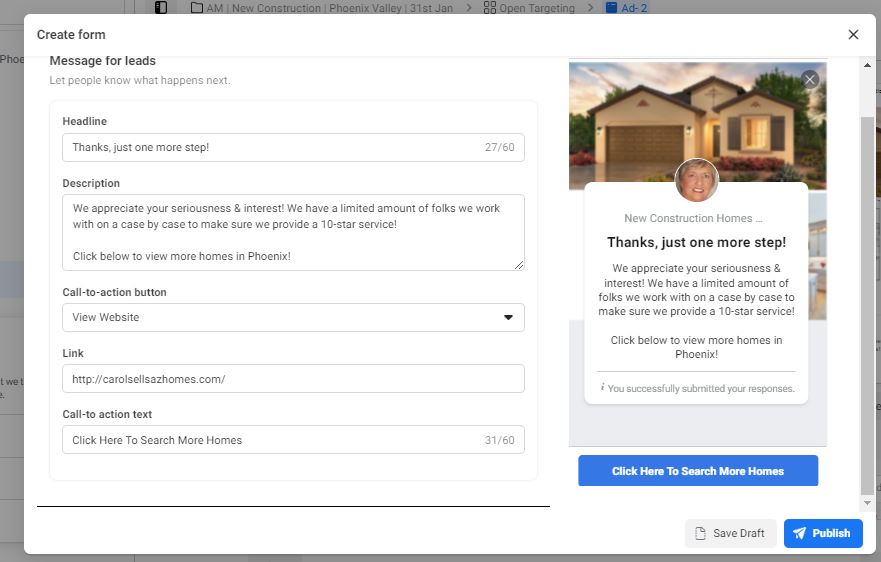 14. Link to the Right Site
You need to be sure that you know exactly where you're sending your leads. To create an accurate link, start by visiting your website. If you're with eXp Realty, this will be your kvCORE site. 
Search on your site for the homes you want to include in your list. In this case, since you promised your leads a list of homes under $300k, search for single-family homes in your area with a minimum price of $200k and a maximum price of $300k.
After you input the correct link in the Link box, simply hit Publish and your Real estate facebook ads campaign will begin.
Downloading And The Importance Of Follow Up
If you need a list of your leads for any reason, you'll need to download it from Facebook. To do this, go to your Facebook page and then click "Publishing Tools" on the left-hand side menu. 
As your real estate FB ads start capturing leads, you have to find a way to automatically import those leads into your CRM database so that you can successfully follow up with them.
In order to have the most success with brand new leads, you need to follow up with a phone call within five to ten minutes. 
Because Facebook does not notify you when you get new leads, you'll have to find a way to create notifications yourself. You can do this by using a third-party system, such as Zapier, that will automatically take your leads from Facebook and bring them to your CRM system. 
When you get your leads into your CRM system, you can then follow up with a phone call and put them on automated drip email campaigns. However, make sure you don't just rely on automated emails. Phone calls will get you more success, especially with brand new leads. 
Final Thoughts on Real Estate Facebook Ads
Real estate Facebook ads are an essential lead generation strategy for your real estate business. If you take the time to learn how to set up a successful ad campaign with effective ads, you'll be bringing in hundreds of leads in no time. 
If You Need help in Facebook advertising, we can help you. We help agencies and their clients generate a massive ROI through our white-label Facebook Ads Services.
We will take care of the Facebook Ad campaigns of your clients so you can focus on scaling your agency.
Have you worked with Facebook advertising before? If so, what kinds of ads did you run? Let me know in the comments below. I'd love to hear all about your experience!