Facebook advertising can be a powerful tool for businesses looking to reach their target audience and drive conversions
Staying current on the latest trends and best practices is crucial to outperforming your competitors on the platform
In 2023, there are several Facebook Ads Strategy that businesses can use to compete effectively on Facebook and drive success through their ad campaigns
By implementing these tactics and staying organized and focused on your goals, you can effectively use Facebook ads to reach your target audience and achieve your business objectives in 2023
1. PERSONALIZE YOUR ADS BY TARGETING SPECIFIC AUDIENCES
With some of the most robust ad targeting options out there, you can get super specific with your target audience, promotions, and ad creative. This is extremely helpful if you don't have a lot of existing customer data.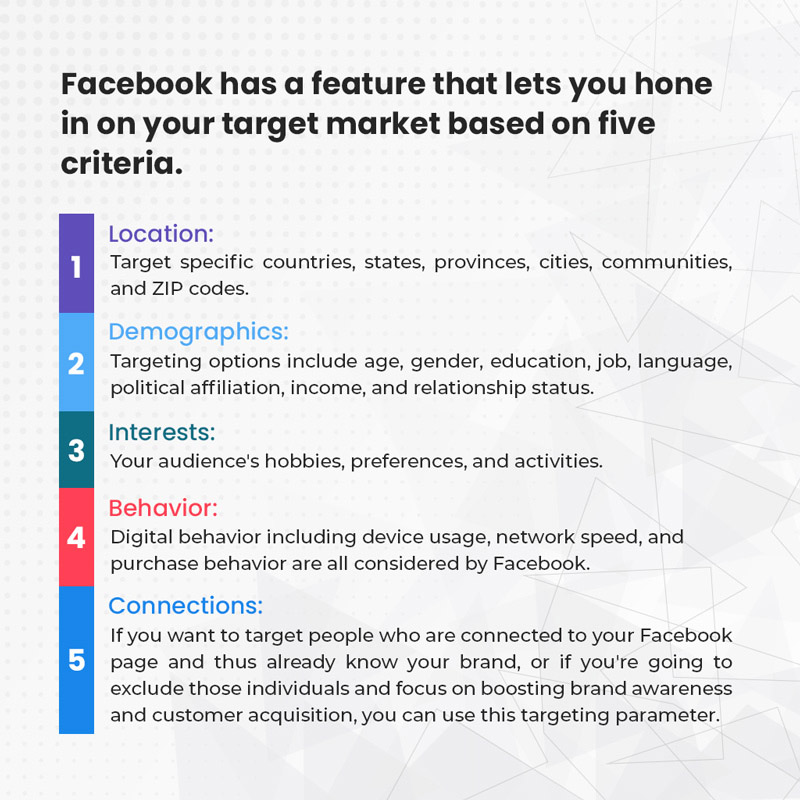 With Facebook's Audience Insights tool, you can get ideas for building your core audience. If Audience Insights tells you your current follower's location, demographic, interests, behavior, and connections, you can apply those parameters to your Core Audiences as you see fit.
Here are a few ideas on how to use the Core Audience targeting options in your Facebook ads strategy.
Target by Life Events: There are many life event targeting options, including but not limited to, engagements, marriages, babies, new jobs, graduations, a recent move, retirement, anniversary, the loss of a loved one, and many more. Think about life events that may correspond to your products or services, and consider the contexts in which your clients will go to you.
Target by Weather: Even though this isn't a native Facebook targeting option, there are third-party tools that you can use to adjust ad creative automatically and activate/deactivate ads based on local weather conditions.
Target by Hobby: Audience Insights are an important part of a Facebook ads strategy. Pick out the hobbies that aren't directly related to your niche or products when looking at the shared hobbies in your audience. For example, if Audience Insights show that there's an interest in country music and concerts, you should consider targeting that audience with ads that suggest that coolers are great for tailgating before concerts and festivals.
2. NURTURE REPEAT CUSTOMERS THROUGH FACEBOOK CUSTOM AUDIENCES
The groups of Facebook users who know about your brand are called Facebook custom audiences. This means they've visited your website before, engaged with your Facebook page or posts, signed up for your emails, made a purchase, or engaged with your brand in another way.
When you give customer data to Facebook, they take that data and compare it to their users, eventually matching your customers to individual users. You can target these people with different ad campaigns after Facebook creates groups of them.
3. EXPAND YOUR MARKET THROUGH "LOOKALIKE" TARGETING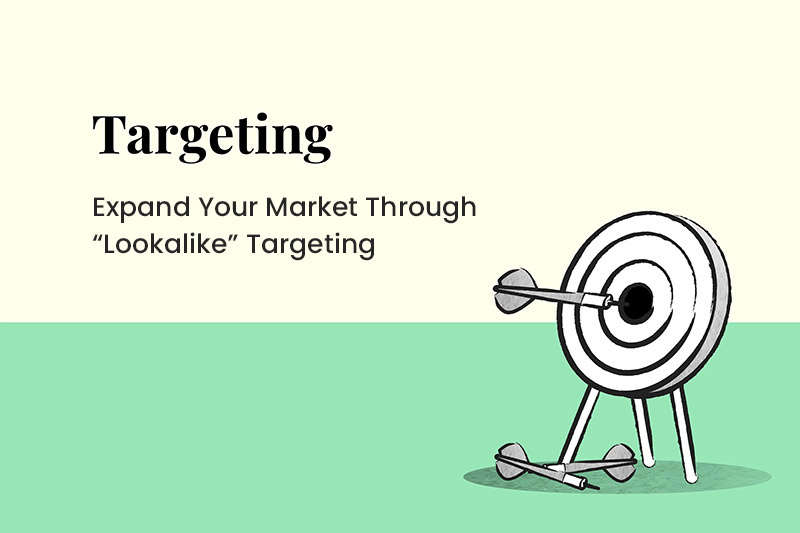 You will use your Custom Audiences to create new segments with the same characteristics as the target. Lookalike Audiences are audiences that look similar to one another.
Lookalike Audiences are valuable because they have a lot in common with your existing audiences, so you already know what they like and which ads perform well. You can often use the same ads for your Lookalike Audiences that you're already running for other targets.
This is a great way to acquire new customers because you already know their preferences, so you can use proven and effective ad creatives to introduce them to your brand.
How similar your Lookalike Audience is to your source audience can be determined. You will target a smaller but more specific group if you keep it very similar. A larger but broader audience is what you will target if you allow for a lot of variation between the audiences. There's plenty of room to get creative and experiment with the 500 Lookalike Audiences that Facebook allows.
4. RETARGET PREVIOUS VISITORS TO YOUR FACEBOOK OR INSTAGRAM PAGES
Users who have visited your website or interacted with your Facebook page in the past will be shown Facebook retargeting ads. This Facebook ads strategy can be used to nurture existing relationships. It's possible to target users based on actions they have taken, such as likes on Facebook, products added to the cart, or even specific pages visited.
There are many applications to this Facebook ads strategy that include people that have:
Engaged with your brand on Facebook and Instagram.
Visited your website.
Used your mobile app.
Spent a certain amount of time on your website.
Visited specific pages of your website or viewed a product (called "viewed content").
Added a product to their cart.
Initiated checkout.
If you're trying to sell a particular product, you can retarget users who have visited that product page.
5. CHECK OUT YOUR COMPETITION IN FACEBOOK AD LIBRARY
To know what attracts your audience, you must understand what your ads compete against. Once you've developed your Facebook ads strategy and built campaigns to promote your brand, you should also check out what your competitors are doing. Facebook launched the Meta Ad Library to increase transparency for advertisers. A repository for all the current and past Facebook ads run by any advertiser is what the tool serves.
It's important to see which ads your direct and indirect competitors are running on Facebook. The ad creative, including imagery and copy, as well as ad variations, should be looked at closely so that you can find ways to stand out.
Information such as when each ad starts running, which platforms they are on, how many ads use the creative, and if the ad is active or inactive is available for anyone to see. It's possible to understand your greatest chance of standing out by doing a SWOT analysis.
ANALYZE YOUR FACEBOOK ADS STRATEGY
It's possible to set it and forget it, but the most effective Facebook ads are constantly adjusted for performance.
Testing your Facebook ads is really important. It will help you learn what works and what doesn't so you can adjust according to those insights. If you want to find out if one type of content performs better than the other, you can test Facebook video ads versus photo ads. It's a good idea to consider the cost of your ads when advertising on Facebook because it's possible to adjust bidding and targeting to get a lower cost-per-click.
The integration with Facebook makes it easy to verify data accuracy and see how it fits into the bigger picture of your online business. When you sell on Facebook with Shopify, you can manage your entire business from a single central command center because everything is at your fingertips on your dashboard.
If You Need any help related to facebook ads or you want to Strat Facebook advertising for your business then Look no further! 
We help agencies and their clients generate a massive ROI through our white-label Facebook Ads Services.
We will take care of the Facebook Ad campaigns of your clients so you can focus on scaling your agency.
We specialize in FB Ad campaigns ranging from $500 – $50k+ in monthly spend, and I cater to a work variety of sectors – Realtors, Mortgage, Solar, Med Spas, Dental, HVAC, Docs, Chiros, Home Services, and many others…
Your Success is our Success! Let us handle your fulfilment so you can focus on your clients.
Ready to accelerate your growth with White Label Facebook Ads Expert? Let's get started!