Facebook is flooded with people!
With 2.6 billion active users on Facebook, it is now a popular and the most used social media network. I am sure that a moment where you search for somebody on Facebook and can't find them is rare.
And here is the good part.
This has brought excitement among the brands and more of them are jumping into Facebook marketing nowadays. Well, that's great news but day by day, it is also getting difficult to target the right audience.
Facebook is user-oriented and hence, algorithm changes are inevitable. The latest one provides a personalized feed to the users so that they can see the content they are interested in before the rest. Now, this is exactly what has made it difficult for businesses to target their desired set of audiences on Facebook.
But don't you worry!
I know what you must be going through. You also must have thought of switching to paid advertising on Facebook but it doesn't guarantee improved ROI. Do you know what guarantees improved Facebook Ads ROI?
Personalization.
And to create personalized ads, you can take advantage of Facebook Audience Insights tool and know about the demographics of the audience interested in your content.

This is just the tip of the iceberg. Without further ado, let's jump straight to different ways to enhance your Facebook Ads ROI.
9 Ways to Enhance Your Facebook Ads ROI
1. Sketch Your Buyer Persona In Detail
Just going through Facebook Insights Tool is not enough. Dive into your demographics and know more about your audience. Because it's difficult to give someone what they want without knowing them.
For example, what good will your buttercup shop's Facebook ad do to an audience who is following fitness brands and athletes? Your cupcake shop's Facebook ads ROI will increase when you target it to people more connected with their families, and friends or the ones who already follow similar industries on Facebook. And, if you have an e-commerce platform, target the ones who have shown similar interests in the past or have visited your website before.
This is why sketching a detailed buyer persona is important.
Even after knowing the age group of your target audience, you need to narrow it down to their interests, lifestyle, behavior, etc., and only then will you be able to reach the right audience and increase your Facebook Ads ROI.
So, create a customer persona and switch to detailed targeting on your Facebook Ads.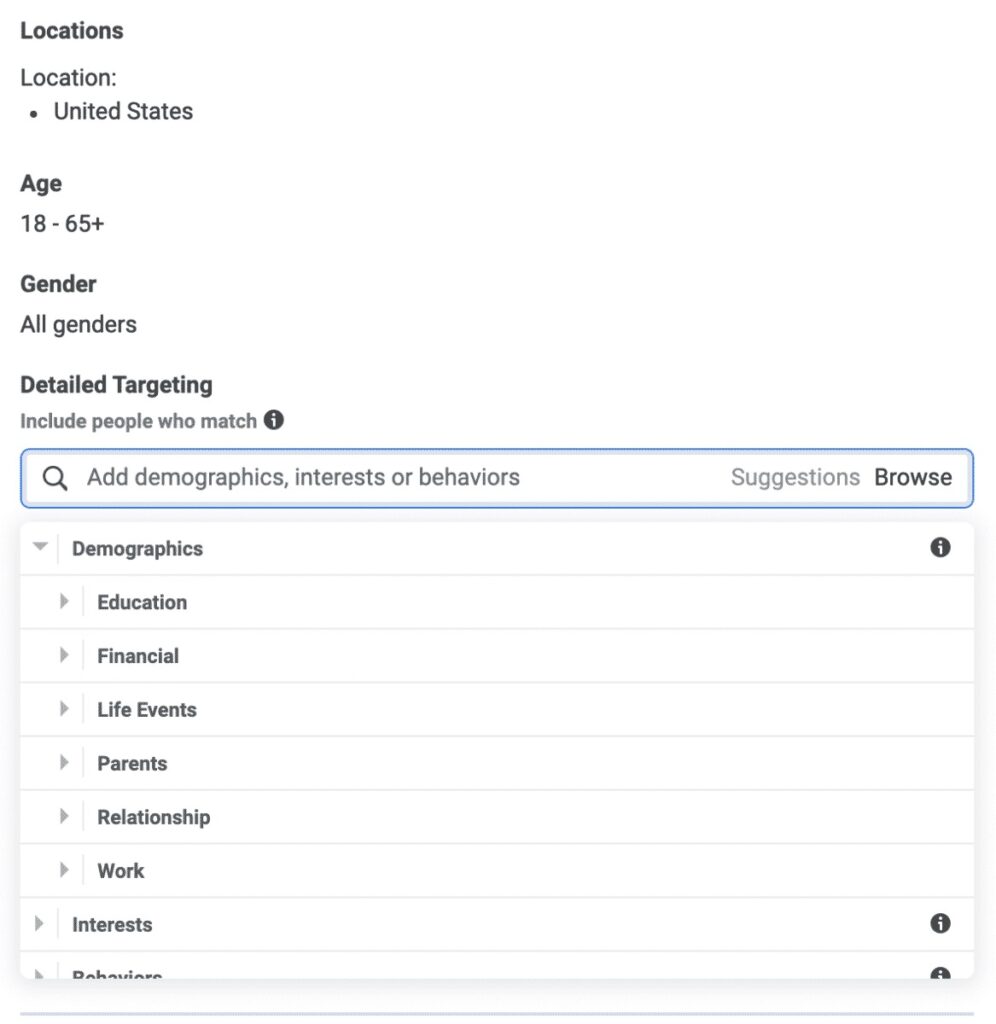 2. Let Your Brand Have A Story
Let's take a moment and revise who we are targeting. Humans, right?
Humans usually connect easily with a story. You must have heard that when people try and explain something to the other, they often explain it as a story.
What does it tell you?
If your brand tells a story to its audience, it might convert the users more easily. The audience will get to know more about your brand than just it's services and products. If presented well, the audience will start building an emotional connection and trust with the brand.
Now, keep in mind that your storytelling doesn't always have to be with text-based ads. You can use visuals and videos to express your idea. This can make your Facebook ad feel more personal to the user and can easily take them from the awareness stage to the consideration stage of your ad cycle.
3. Make Your Landing Pages Worth Visiting
Imagine you have a compelling Facebook ad and your audience is loving it too. Users are flooding to your Facebook page and are clicking on your ad. What if even after this, your Facebook Ads ROI is as dead as before!
You should give this a serious thought.
If your audience is clicking through and landing on your page, what can possibly make them go back?
Is it an underdeveloped landing page?
Or irrelevant information on the landing page?
Whatever it is, it would not look good for your brand on Facebook. This will not just increase the bounce rate but users won't click so easily on your Facebook ad again due to one bad experience.
So, the right thing to do is while focusing on your Facebook ad, pay attention to your landing pages as well. Update them regularly, make them mobile-friendly, and write a copy that can make the user believe that you can help them.
4. Retarget The Customers That Are Already Interested
Retargeting is an important tool in a marketer's toolkit. There are chances that a user might leave your sales funnel at certain stages. At this time, you would want the user to come back to your website and reach the finish point of the funnel.
For this to happen, you need to approach a user multiple times to get them back. For example, let's say that you have a course teaching people retail arbitrage as a side hustle.  
If you had a website visitor land on a blog post answering beginner retail arbitrage questions, you'd want to use retargeting to bring them back and encourage them to further engage with your content. Doing so would engage them further with your brand and potentially lead to another student. 
It is said that retargeting ads are 76% more likely to be clicked compared to traditional display advertising. 
Looks like second chances at getting the customer work!
Now, you can instantly hop to Facebook Retargeting to increase your Facebook Ads ROI. You can remind your users to finish their purchase using retargeting ads or even remind the products they were interested in.
If needed, retarget them with offers on the products/services they were interested in. 
The basic rule about creating ads is that your ad should impact the audience. And for that to happen, you need to write human ad copies.
When a user scrolling on Facebook reaches to your ad, he/she shouldn't feel that it's a business talking. Instead, they should feel that it's a human talking to them. This can impact big time on your Facebook Ads ROI because when you talk to your audience, they connect to you and might end up clicking through your ad.
With Facebook Ads, you might not get to write a lot of text so be impactful with your words. 
Follow the same rule for your Facebook ads landing page as you don't want the user to leave the sales funnel and increase your bounce rate.
In short, write an ad copy like you are having a one-on-one conversation with your users. You can even use local slang or conversational phrases because you should do anything but not look like a machine brand talking at them.
Here is a fine example of a conversational Facebook ad.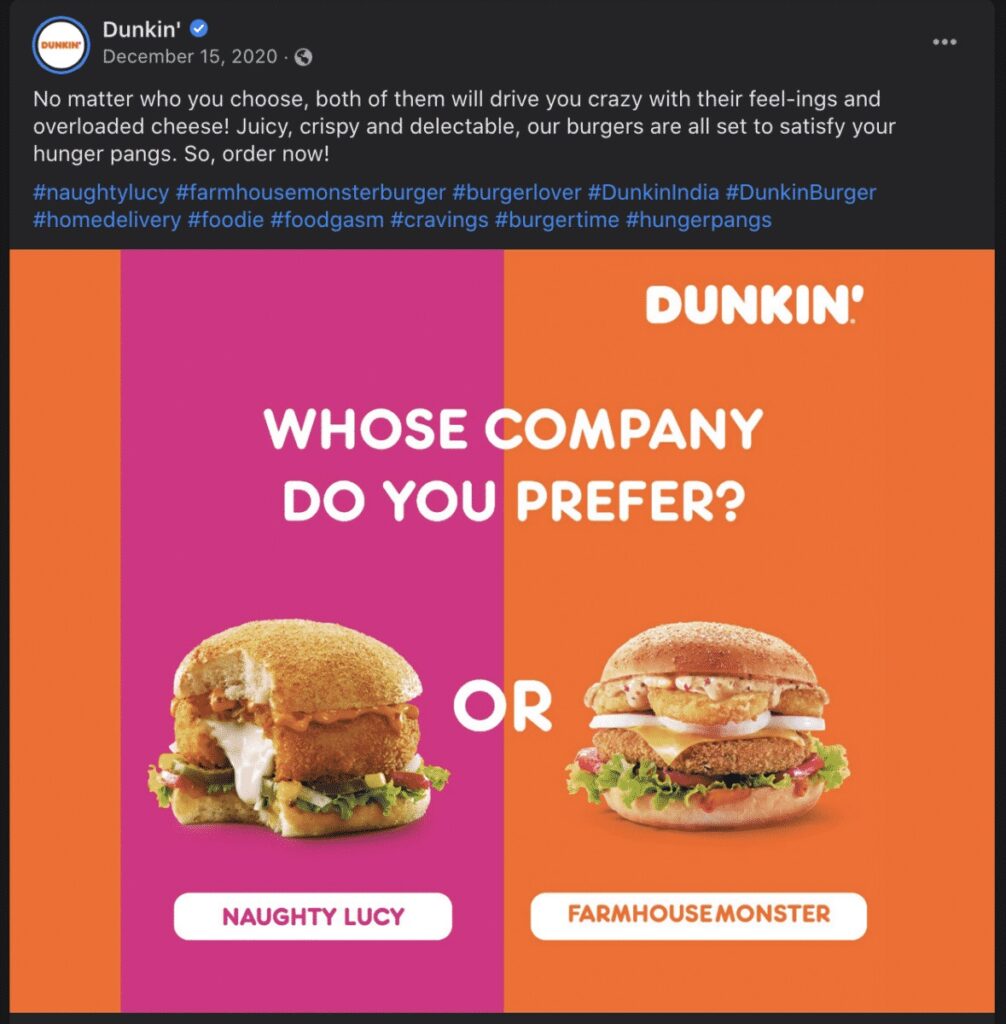 6. Leverage Video Ads on Facebook
You are leaving a big opportunity for nothing if you aren't using video ads on Facebook.
Even after the algorithm has changed, video ads take up a special place in the newsfeed. They provide better opportunities for a brand on Facebook i.e., it catches a user's attention better than other content formats and drives more traffic.
More and more users are watching videos these days and you have to keep up with it. With better reach, videos also allow you to express your idea more effectively. And this can help you engage your audience to convert them better and hence, increase Facebook Ads ROI.
7. Track As Much As You Can
Even if you are doing everything right, you always want to know what's working for you and what isn't. Otherwise, how will you make better decisions?
"If you can't measure it, you can't improve it" – Peter Drucker.
To know your progress in and out, track your Facebook Ads campaigns. This will help you know the exact number of conversions, and will also tell you which Facebook ad is getting more clicks and impressions.
This way, you will think clearer on working towards the improvements needed and hence, successively increase your Facebook Ads ROI.
It's not that difficult.
You can utilize Facebook's tracking features for it or if needed, there are a bunch of Facebook analytics tools available in the market. Make the most of them!
8. Never Ignore A/B Testing
It's usual to have a bunch of questions when working on Facebook Ads. You must question the potential of your ad copy, visual, etc., and how many conversions will it generate. The answers to all these questions aren't written down in any rulebook.
The best way to find answers to these questions is through experimentation, always.
Every brand has a unique Facebook audience and you can't know what will work for you from anywhere else except your audience. So, start experimenting with your Facebook ads and work on your ad layout, copy, or multimedia. 
Test, test again, and repeat!
You can begin with creating an A/B test within the Ads Manager Toolbar by following these steps:
1. First select multiple published campaigns that you want to perform an A/B test on and then Select "A/B Test", which is the laboratory flask icon in the toolbar:
2. Doing so will take you to the following setup screen:
3. Next determine how you want to select the winner and complete A/B test setup:
4. You then review, publish, and see results in the Experiments section of your Facebook Ads Manager.
Other than this, there are different ways to conduct A/B testing such as Duplication, etc. So, explore your options and then work on increasing your Facebook Ads ROI.
9. Choose a Digestible Ad Frequency
Again, there is no rule for how often a specific user should be shown a specific ad. But, definitely not just once. The 'reach' figure determines how many times your ad was on the same page as the user but it doesn't guarantee if the user saw the ad.
You should aim at showing your Facebook ad to a user at least thrice because a person needs to see a certain thing at least thrice to remember it as per human psychology.
But be careful as well!
You don't want to be tagged as 'spam'.
At this time, you need to derive on your own how often your ad will be noticed if shown on the screen based on its visual appearance, ad copy, etc. And as I said before, experimentation is your key to success for increased Facebook Ads ROI.
So many marketers now look at Facebook as a difficult platform to win with their usual marketing techniques. 
Believe me, it's not!
You just need to alter a few techniques and bring in some new ones to get back in the Facebook advertising game. Each technique mentioned above in the blog is as important as the other. 
You can choose the ones that suit your business on Facebook depending on your target audience and start experimenting.
I would suggest giving at least one shot to all 9 ways because experimenting with them can bring you some unexpected results. It can also help you develop your future ideas for Facebook marketing. This or that, you will surely find techniques here to enhance your Facebook Ads ROI.
Comment down below and let us know which techniques you think will work best to enhance your brand's ROI on Facebook. 
We would love to hear from you. Comment down below if you have any other techniques in mind. After all, your Facebook ads ROI is only as strong as your strategy.
We help agencies and their clients generate a massive ROI through our white-label Facebook Ads Services.
I will take care of the Facebook Ad campaigns of your clients so you can focus on scaling your agency.
I specialize in FB Ad campaigns ranging from $500 – $50k+ in monthly spend, and I cater to a work variety of sectors – Realtors, Mortgage, Solar, Med Spas, Dental, HVAC, Docs, Chiros, Home Services, and many others…
Your Success is my Success! Let us handle your fulfilment so you can focus on your clients.
Ready to accelerate your growth with White Label Facebook Ads Expert? Let's get started!
I look forward to hearing from you.
Happy Facebook Marketing!