If you are reading this blog now, you're perhaps at the edge of partnering with a white label FB advertising agency. Probably Facebook advertising is not your forte, but you want to gain a stronghold to grow your business. Maybe you're trying to meet loose ends, but finding yourself in deep water managing the workload. Or perhaps your previous white label agency screwed it up completely and you do not want to make the same mistake again.
Whatever it may be, hiring white label Facebook ads can take your digital marketing agency to the next level.
What is White Label Facebook Advertising?
White label Facebook advertising is an engagement model wherein a third-party digital marketing agency manages your client's Facebook advertising campaigns under your brand name in a discrete manner. They do all the work; you resell the services with your brand and retain the clients. This can help reduce your overhead costs while delivering high-quality, measurable outcomes to your clients.    
White label outsourcing is an effective tool to get more clients, increase your scope of service, and grow your business with improved ROI. White label Facebook marketing by an expert company can help your clients build a strong social presence, target new audiences, and improve page engagement with more likes, comments, and shares. This can generate more traffic, build awareness, and increase ROI in the long run. 
Reach and engagement level on the world's top social networking platform – Facebook, continues to be high. Ad impressions on Facebook have increased 37% in 2019 and are estimated to be highest this year. This is the best time for businesses to focus your advertising spend on this lucrative platform. As a digital marketing agency, if you are unable to serve your clients with dedicated Facebook advertising on the plate, it can affect your brand credibility. 
In this scenario, white label Facebook is the best way to meet your client requirements, build brand image, and grow your ROI.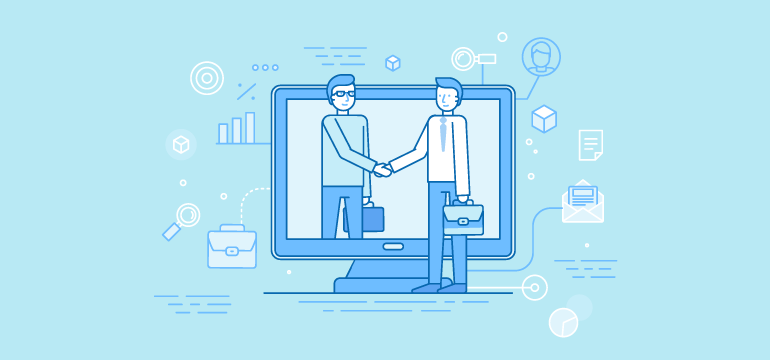 How to Hire the Best White Label Facebook Advertising Agency – Top Questions to Ask
One of the biggest challenges that any PPC marketing company face is: How to choose the right white label digital marketing agency that can guarantee the best returns for advertising dollars?
So, let's dive into the top 8 questions you should ask to have the best marketing partner to boost your business.
#1: Why do you think your white label FB Advertising agency is the best match for our company? Why should we hire you?
One of the hallmarks of best white label FB advertising management is achieving measurable results for clients and improving ROI. Therefore, it is crucial to understand how your digital marketing partner functions – why they think they are the best match for your Facebook advertising outsourcing needs.
For how many years they have been in business? What is their customer rating and reviews? Who are your past clients and how have you served them with dedicated white label FB advertising agency? It is important that the agency maintains 100% transparency in matters related to their expertise in diverse fields of Facebook advertising, resources they use, and most importantly, do they have a definitive strategy to help achieve your business goals.
Getting a suitable answer to this question is vital because it will help understand how the white label agency will work on your project.
#2: How do you plan to improve Facebook ad impressions and conversions for my clients?
A top white label FB Advertising agency is one that proposes a definitive Facebook advertising approach with a focus on results. Here it is important to see whether they offer a one-size-fits-all strategy or brainstorms something unique and bespoke for your clients' advertising needs. 
A seasoned agency will first take time to understand your client's business, marketing goals, and budget. Likewise, they will devise a plan that is tailored to deliver quality results. Make sure the strategy involves techniques and methodologies that are dedicated towards improving ad clicks, generating quality leads, and boosting conversions for your clients.      
Some of the key Facebook advertising strategies you should watch out for are:
Custom Audience targeting, i.e. you can specifically choose who will see your ads. Targeted advertising on Facebook will enable your clients to reach only your preferred audience sets, build a strong social presence, increasing click-through rate, and lowering your CPC by eliminating irrelevant clicks.
Facebook remarketing, i.e. reaching audiences who have already interacted with your brand but did not convert
Lookalike Audience targeting to "reach new people who are similar to an audience you care about." This helps expand your client's reach and get more traffic
Creating and optimizing ads for both desktop and mobile, i.e. taking a hybrid advertising strategy that works
Leveraging different ad types for better reach, engagement, and conversions
Tracking, analysis, and reporting
#3: How versatile you are?
The versatility of your Internet marketing company is one of the most important deciding factors for most clients. Therefore, choose an agency that isn't a one-trick pony, but a Swiss army knife. Sure, you would want someone specializing in the Facebook ads white label. But to make your company's service excellence potent and well-rounded, your agency should offer a bouquet of capabilities. 
Just like a Swiss army knife, they should be able to adjudge and provide the right marketing strategy that will work best for your clients. Furthermore, supporting your Facebook ads with other digital marketing techniques will deliver all-round effectiveness and better results. 
#4: How efficiently does your white label FB advertising agency respond to the latest developments and changes?
This is a vital question to ask because Facebook is continuously updating how advertisers can use this powerful platform to reach more customers. Unless the white label agency is able to tap onto these opportunities, they would be unable to provide the services you need. Additionally, not knowing about the latest changes or implementing unproven strategies can also cause the ad account from getting banned by Facebook.
A good digital marketing agency is one that is constantly upgrading themselves to the recent developments and keeping pace with industry-proven tactics. This will help implement just the right strategies to achieve high-quality results for your clients. 
#5: Does your agency have a clear and transparent way to measure Facebook advertising results?
If the white label FB Advertising company is unable to measure results, it will be hard for you (and your clients) to know if their services are right for you. It is important to understand here that not all agencies have the same approach towards measuring success.
While some might focus on increasing your click-through rate and website traffic, while others may aim at improving conversions. Whatever it may, they must have a definitive approach to measure results. Ask what tools they use to track the performance of an ad campaign. What are their key tracking parameters? How do they analyze the data sourced through tracking? Their understanding of results must align with yours, and your clients. 
#6: What is the form of communication and what are your privacy policies?
Suppose you hired a white label FB Advertising company that is unable to reach. It would be a disaster for your company if they do not have a strategic communication channel in place.
Beware of agencies that have just automated bots to answer your queries. Expect face-to-face communication for kick-off meetings and prompt response from a professional at the other end every time you call. It is also crucial to have a clear understanding of whom you should communicate with and why. It is good to have a single point of contact and who is readily available to answer your queries or provide feedback on the project.
At the same time, ask the agency about the privacy policy they practice. Your white label Facebook outsourcing model should be 100% discrete and confidential.
#7: How do I track campaigns?
Just because you are outsourcing Facebook advertising to a white label agency does not mean you will completely rely upon them for campaign performance and results. They should provide you a transparent way to monitor how your campaigns are performing and what better should be done to optimize the results. Most companies have dedicated software tools and client dashboards to help track campaigns.
Do not trust a PPC agency that has a vague reporting system and does not provide insights as to how the results are achieved.
#8: What is your white label FB advertising pricing & payment schedule?
It is also important to ask the agency about the pricing model they use. Different agencies have different pricing systems, and you should pick one that best suits your budget and expectations. Typically, you can outsource white label Facebook ads on the basis of monthly-retainer, hourly, or project-based pricing systems. Compare price quotes and payment schedules from two or more agencies, and make a wise choice. 
When planning to partner with a white label FB Advertising agency, you need to be careful so that you do not end up getting a bad deal. To help achieve desired results from the white label engagement model, ask these vital questions to the agency, and choose a trusted partner.  
We help agencies and their clients generate a massive ROI through our white-label Facebook Ads Services.
We will take care of the Facebook Ad campaigns of your clients so you can focus on scaling your agency.
I specialize in FB Ad campaigns ranging from $500 – $50k+ in monthly spend, and I cater to a work variety of sectors – Realtors, Mortgage, Solar, Med Spas, Dental, HVAC, Docs, Chiros, Home Services, and many others…
Your Success is my Success! Let us handle your fulfilment so you can focus on your clients.
Ready to accelerate your growth with White Label Facebook Ads Expert? Let's get started!
I look forward to hearing from you.